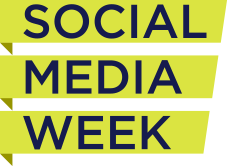 For the first time in five years that the Social Media Week has been running, Nigeria will partake in the programme from February 18th – 22nd, 2013.
The Social Media Week is a global conversation that examines the cultural and economic impact of social media in our lives, and this year's edition is themed "Open & Connected: Principles for a Collaborative World." It will take place simultaneously in 10 cities around the world namely: Copenhagen, Hamburg, Miami, Milan, New York, Paris, Singapore, Tokyo, Washington DC and Lagos.
The Social Media Week Lagos Team is excited to announce that the official schedule is now LIVE and registration is open!  At present, there are 84 events scheduled, and some yet to be announced exciting evening events will be also be added.
Alima Atta, MD Sesema PR, will be participating at the event called 'My Journey' on February 22nd, 2013 and it will be streamed on Google Hangouts.
You can find the Social Media Week Lagos schedule here: http://socialmediaweek.org/lagos/schedule/. Kindly participate and invite your friends to do same.